I'm often described as an extremely analytical person. In my various jobs, managers who demanded linear, predictable, and otherwise uncreative progress have lamented what they considered my tendency to keep analyzing a subject before eventually producing a result. I excel in the technical and scientific areas. In the end, I produce work that seems immensely thought-through, rigidly analytical, carefully argued, and rigorously disciplined.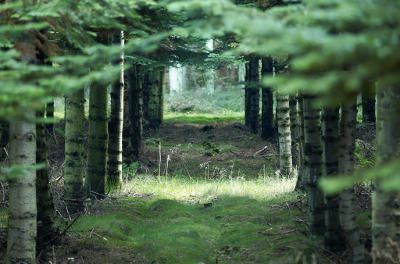 But that is neither how I think, nor how I work. Presen­ted with a problem, I see a land­s­cape in front of me with lush valleys, im­pas­s­able moun­tains and gorges, walls, streams, high­ways, build­ings, paths, caves, dark forests, and hidden pas­sages. The problem is an area in the dis­tance that is so­me­times clearly visible, at other times covered in a hazy mist that ob­s­cures the precise loc­a­tion, and so­me­times it falls en­tirely beneath the horizon, giving itself away only by a mag­net­ic at­trac­tion that guides the compass needle to point in its dir­ec­tion, or as distant rays re­veal­ing where the Sun is setting. It is a map for a West­ward chase for the es­cap­ing light.

I know the goal in advance: conclusions and results, and often side effects are known to me. Intermediate solutions are camp sites that may be planned; bad or imperfect solutions are directions leading away from the goal or which will cause detours. I see them immediately on the map when they are proposed. Only then begins analysis, which is packing for the trip and preparing for potential unknowns en route. It is usually completed in seconds or minutes, because the route is a glowing path through the landscape, and work may begin immediately.

But unlike a journey where you move progressively, my mental landscape is superimposed onto reality. I travel, as it were, in an alternate set of dimensions, which I mean in a very allegorical sense; I do not make astral travels or otherwise have out-of-reality experiences. It is a "travel" that allows me to pave any one point of the path towards the goal at any time, to enable those who need the solution to somehow get there. The path is paved with whatever material I currently have available, and wherever it is in most need. I am unable to begin paving from the beginning, moving slowly to the end, because I lose sight of the end by focusing on the beginning.

And so I cannot write a story beginning with chapter one. I write a passage here and a passage there. I leave large gaps of room in a document waiting to be filled, and I write statements that I cannot yet know in sections that depend on future events, trusting that they will make sense once their future becomes present. I am rarely forced to delete or redo any part; I only elaborate a little here, and a little there, adding details in the whole instead of detailing the already detailed. If I may for a moment abuse quantum physics beyond its province, I see the wave and alter its characteristics where everyone sees the particle and attempts to alter its course. The wave spans the landscape while the particle crosses it.

My approach and others' approaches may yield identical results, but I am not the analyst. What may seem like careful and skilled analysis where effects lead to causes, which in turn lead to other effects and causes, is to me a mere description of what I see, with no intent to analyze or understand the path directly ahead. Perhaps that is the secret of the analytical gift.