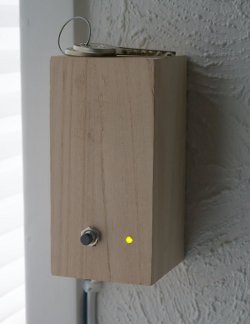 Der er krav om, at alle husstande skal have postkasser placeret tæt på vejen senest ved udgangen af år 2011. Det gør det muligt for Post Danmark at fyre postbude, fordi de lægger noget af deres hidtidige service ud til borgerne og således sparer tid. Når Post Danmark samtidig fastholder portoen, tjener Post Danmark penge mere på denne bestemmelse.

For vores vedkommende betyder det, at vi kommer til at gå forgæves til postkassen nogle gange, men det er der råd for. En gammel reed-kontakt, som jeg havde liggende, gav mig ideen til en simpel, elektronisk konstruktion:

En reed-kontakt er en lille, magnetisk kontakt, som man "trykker" på ved at bevæge en magnet forbi den. Ved at montere en magnet og en reed-kontakt ved postkassens låge, bliver kontakten sluttet, når postkassens låge bliver vippet. Kombiner dette med det simple kredsløb, der er kendt som en bistabil multivibrator, og man har nu de to tilstande, der svarer til, at postkassen er blevet hhv. betjent, og at man har bekræftet tømningen af den.

Reed-kontakten trigger den ene tilstand, og en reset-knap trigger den anden tilstand. Kredsløbet og veroboard-placeringen er som følger: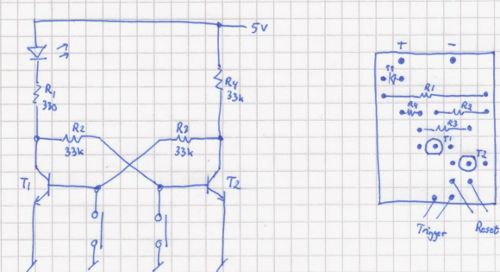 Den endelige konstruktion fylder ikke mere end ca. 2½ x 2 cm. Der tilsluttes 5-6 volt, og en ledning (det er sikkert bedst med en skærmet ledning) med reed-kontakten for enden føres ud til postkassen. Her skal det naturligvis sikres, at tilslultningerne på reed-kontakten er beskyttet mod fugt - brug krympeflex til den slags.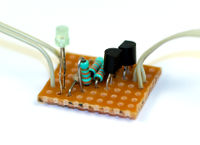 Med en passende placering af reed-kontakten og en magnet ved postkassens låge, bør en bevægelse af lågen give anledning til, at reed-kontakten bliver sluttet. Det får lysdioden til at lyse, indtil en barmhjertig sjæl trykker på reset-knappen. Det bør i denne sammenhæng siges, at jeg ikke har forsøgt mig med praktisk brug endnu og blot konstateret, at konstruktionen med to kontakter virker efter hensigten. Hvis konstruktionen viser sig at være for følsom og trigger uden nogen grund, kan det være nødvendigt at reducere størrelsen af modstandene R2, R3 og R4. Der kan også benyttes andre forsyningsspændinger, men så skal værdien af R1 øges. Ved 9 volt bør R1 være 470 ?.